20.

Database Add-on

The database Add-on adds SQL database support. It allows you to log process data values into a SQL database via the SQL Data Logger and it provides support for executing SQL queries.
20.1.

SQL Database Logger

The SQL database logger enables logging of process data into an SQL database. The logger is not intended to record process data at very high sample rates but to log important process data over a longer period of time to document experiments or automated processes in the laboratory.

The SQL database logger supports various databases such as SQLite, MySQL or PostgreSQL. It has been tested with SQLite and MySQL databases.
20.2.

Script Functions

To automate the data logging or to synchronize data logging with other processes, the SQL database logger can be started and stopped using script functions. The corresponding functions can be found in the Logging category in the list of the available script functions.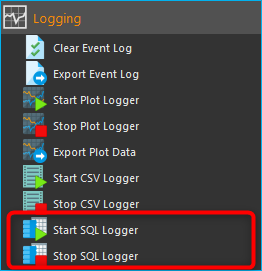 20.2.1.

Start SQL Logger
This function is used to start the SQL logger with the currently configured settings and channels.
20.2.2.

Stop SQL Logger
This function stops logging into SQL database.
20.2.3.

Trigger SQL Data Logging
This function triggers the immediate logging of all channels of the SQL logger. Normally the data will be logged with the configured interval. If you would like to force the immediate logging of all channels, for example if you would like to capture the current state of all channels if a certain event occurs, then you can use this function.
20.3.

JavaScript Database Access

The Database Add-on provides some functionality, to access SQL databases from JavaScript code. If you enter the help() command in th JavaScript Console, you should see the database objects such as QSqlDatabase or QSqlQuery.

20.3.1.

Example 1 - SQLite Database Query

The following example code shows, how to use the database objects in a JavaScript function to execute a SQL query for an SQLite database:
function

 

main

()

 

{


   

db

 

=

 

new

 

QSqlDatabase

();


   

db

.

createConnection

(

"QSQLITE"

,

 

"JsScript"

);


   

path

 

=

 

ScriptEnv

.

projectPath

(

ScriptEnv

.

LocationLog

)

 

+

 

"/ProcessDataDbLog.sqlite"

;


   

db

.

setDatabaseName

(

path

);


   

db

.

open

();


   

q

 

=

 

db

.

createQuery

();


   

result

 

=

 

q

.

exec

(

"SELECT * FROM tbl_process_dat"

);


   

if

 

(

!

result

)

 

{


      

throw

 

new

 

Error

(

q

.

lastError

());


   

}


   

while

 

(

q

.

next

())

 

{


      

print

(

q

.

recordValues

());


   

}




}



20.3.2.

Example 2 - Create SQLite Database Schema

The following example shows, how to create the following database schema in an SQLite database using JavaScript code:
function

 

createSchema

()

 

{




db

 

=

 

new

 

QSqlDatabase

();




if

 

(

!

db

.

createConnection

(

"QSQLITE"

,

 

"JsConsole"

))

 

{


   

throw

 

new

 

Error

(

db

.

lastError

);




}




db

.

setDatabaseName

(

"C:/temp/test3.sqlite"

);




if

 

(

!

db

.

open

())

 

{


   

throw

 

new

 

Error

(

db

.

lastError

());




}




q

 

=

 

db

.

createQuery

();




result

 

=

 

q

.

exec

(

"CREATE TABLE IF NOT EXISTS substance ( "

 

+


   

"id INTEGER NOT NULL PRIMARY KEY AUTOINCREMENT, "

 

+


   

"name TEXT, "

 

+


   

"description TEXT)"

);




if

 

(

!

result

)

 

{


   

throw

 

new

 

Error

(

q

.

lastError

());




}





result

 

=

 

q

.

exec

(

"CREATE TABLE IF NOT EXISTS method ("

 

+


   

"id INTEGER NOT NULL PRIMARY KEY AUTOINCREMENT, "

 

+


   

"name TEXT)"

);




if

 

(

!

result

)

 

{


   

throw

 

new

 

Error

(

q

.

lastError

());




}





result

 

=

 

q

.

exec

(

"CREATE TABLE IF NOT EXISTS experiment ("

 

+


   

"id INTEGER NOT NULL PRIMARY KEY AUTOINCREMENT, "

 

+


   

"substance_id INTEGER, "

 

+


   

"method_id INTEGER, "

 

+


   

"FOREIGN KEY (substance_id) REFERENCES substance (id), "

 

+


   

"FOREIGN KEY (method_id) REFERENCES method (id))"

);




if

 

(

!

result

)

 

{


   

throw

 

new

 

Error

(

q

.

lastError

());




}



   

result

 

=

 

q

.

exec

(

"CREATE TABLE IF NOT EXISTS experiment_log ("

 

+


   

"id INTEGER NOT NULL PRIMARY KEY AUTOINCREMENT, "

 

+


   

"log_datatime TIMESTAMP, "

 

+


   

"event TEXT, "

 

+


   

"experiment_id INTEGER, "

 

+


   

"FOREIGN KEY (experiment_id) REFERENCES experiment (id))"

);




if

 

(

!

result

)

 

{


   

throw

 

new

 

Error

(

q

.

lastError

());




}



   

result

 

=

 

q

.

exec

(

"CREATE TABLE IF NOT EXISTS ms_measurement ("

 

+


   

"id INTEGER NOT NULL PRIMARY KEY AUTOINCREMENT, "

 

+


   

"data_file_path TEXT, "

 

+


   

"FOREIGN KEY (id) REFERENCES experiment_log (id))"

);




if

 

(

!

result

)

 

{


   

throw

 

new

 

Error

(

q

.

lastError

());




}





return

 

""

;




}



20.4.

JavaScript API Reference
20.4.1.

QSqlDatabase
class

DbPlugin

::

CScriptQSqlDatabase

:

public

QObject




Wrapper for QSQLDatabase object to use it in JavaScript.

The following code shows, how to open a database connection in JavaScript and how to execute a simple query

db

 

=

 

new

 

QSqlDatabase

();




db

.

createConnection

(

"QSQLITE"

,

 

"JsScript"

);




db

.

setDatabaseName

(

"C:/Users/Public/Documents/QmixElements/Projects/Entwicklung/Log/ProcessDataDbLog.sqlite"

);




db

.

open

();




q

 

=

 

db

.

executeQuery

(

"SELECT * FROM tbl_process_data"

);




while

 

(

q

.

next

())

 

{




  

print

(

q

.

recordValues

());




}



20.4.2.

QSqlQuery
class

DbPlugin

::

CScriptQSqlQuery

:

public

QObject




Wrapper for QSqlQuery to use it in JavaScript.

There are several options how to execute a query. The first option is, to call the executeQuery() function of the database object:

q

 

=

 

db

.

executeQuery

(

"SELECT * FROM tbl_process_data"

);




The second option is, to create the query via the database object and to execute it later:

q

 

=

 

db

.

createQuery

(

"SELECT * FROM tbl_process_data"

);




q

.

exec

();




or you create the query object and the pass the actual query to the executeQuery() function

q

 

=

 

db

.

createQuery

();




q

.

exec

(

"SELECT * FROM tbl_process_data"

);




If you want to insert data into the database, then you can build the complete query string with JavaScript or you can use the bindValues() function with placeholders like in the code below:

q

 

=

 

db

.

createQuery

(

"INSERT INTO person (id, forename, surename) VALUES (?, ?, ?)"

);




q

.

bindValues

([

1001

,

 

"Bart"

,

 

"Simpson"

]);




q

.

exec

();